| | | |
| --- | --- | --- |
| Chancel | 15th-century east window | 16th century arches |
---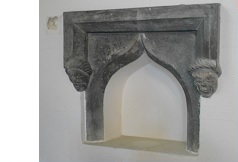 Early 16th century piscina – a stone basin (with a drain), near the altar, in Catholic and pre-reformation churches, such as St Peter's. It was used for draining water that had been used in a mass. You can see the piscina in the recess, near the entrance of the Dallam Chapel.
---
The Levens (north) chapel
Restored in 1980



14th century
holy water stoup
(small basin for holy water).

Beautifully carved
wooden screen,
dated 1605
---
Dallam (south) chapel
Fragments of painted glass, dated 1601,
in the stained-glass window.

South aisle
To the right of the font: recessed seating
– 14th century work, but restored.
---
The chest at the east end of the north aisle
dates from 1400.

17th century patens,
cup and flagons
---
Doors
The ironwork on the main door
appears to be of 15th century origin.

The vestry door is
very probably 16th century.
---


Pulpit
Archdeacon Evans (the first Archdeacon of Westmorland and Vicar of Heversham) and his 3 sisters gave the pulpit that we have now, to replace the 1849 3-decker pulpit.
---
The lectern
The present one was given
in 1885, by Lieut Colnel
and Mrs Gandy, of Heaves.

The organ
This dates from 1854.


---
The register
The surviving part of the original register begins at the year 1607, and is, with other registers, in the Kendal Archive.
---
The living of Heversham
This living, formerly the gift of St Mary's, York, is now in the hands of Trinity College, Cambridge.
The list of rectors and vicars of Heversham, since 1180, is by the main exit of the church.
(Click the image to enlarge it.)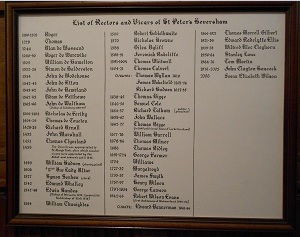 ---
Church history
If you'd like to ask about any aspect of St Peter's Church history, church records and so on,
send an email message to Roger Bingham, local historian and Church Reader,